Ana W. Barraza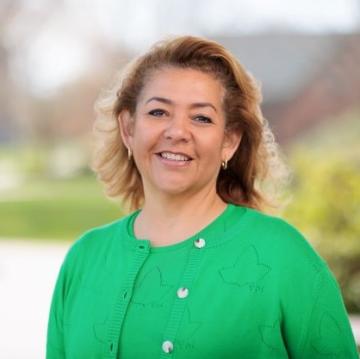 Ana W. Barraza
Interim Director, Diversity and Outreach
Ana W. Barraza considers herself a native Rhode Islander. She migrated from Guatemala to Providence's West End with her family in 1974. Her parents still live in the home they moved into at that time. Attending schools in Providence, ultimately graduating from Central High School in 1988, and attending the University of Rhode Island through the Talent Development Program, she earned her Bachelor degree in English Literature with a concentration in African/African-American literature from the University of Rhode Island in 1994 and her Master of Science degree In Human Development and Family Studies with a concentration in College Student Personnel from the University of Rhode Island in 2004.
Ana worked for 10 years in mental health and substance abuse then ultimately transitioned to corporate America prior to pursuing a career in Higher Education. Ana's work in higher education has been primarily focused in access to education for underrepresented populations and mentoring women of color. She has taught in the Minor for Leadership Studies at the University of Rhode Island and served as a tutor and mentor to incoming first year students accepted through the Talent Development program at URI. She has 17+ years experience in Higher Education, previously having worked at Texas Woman's University, the University of Connecticut, Brown University Pre-College Program, the University of Rhode Island, Johnson & Wales University, Stonehill College, and Semester at Sea. Ana recently departed Brown University after 4 years working as the Assistant Director of Student Activities and the Stephen Robert '62 Campus Center.
During the pandemic, Ana started working overnights for Crossroads Domestic Violence Program as a shelter Advocate, a position she departed to join the RWU Team. Fall 2021, she started teaching as an adjunct for College Unbound. Ana is also on the boards of the Paul Cuffee School and Nuestro Mundo Public Charter School. She enjoys spending time with her college aged nieces and traveling. Ana is an active member of Alpha Kappa Alpha Sorority Inc., Theta Psi Omega Chapter, and is involved in many civic and community programs in the greater Providence area. In April 2021 after living as a legal Resident for 40 years, Ana became an American citizen.