IPLA's Copyright and Racial Justice Panel Discussion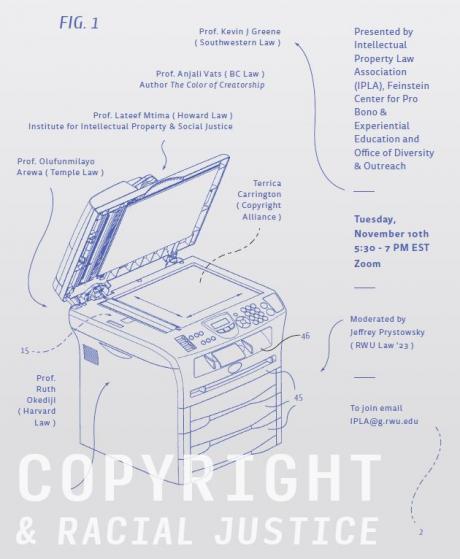 -
Virtual CLE Program
Registration Required
RWU Law's Intellectual Property Law Association (IPLA) is excited to invite you to our inaugural event…
Join us on Tuesday, November 10, 5:30pm - 7:00pm (ET) for a panel discussion on Copyright and Racial Justice, where we will explore such questions as: Is copyright race neutral? Is copyright helping or hurting anti-racism? Is copyright good for artists of color?
The all-star panelists include:
- Professor Ruth Okediji (Harvard Law) Bio
- Professor Olufunmilayo Arewa (Temple Law) Bio
- Professor Anjali Vats (BC Law), author of new book: "The Color of Creatorship" Bio
- Professor Lateef Mtima (Howard Law and Institute for Intellectual Property and Social Justice) Bio
- Professor Kevin J Greene (Southwestern Law, lawyer for Spike Lee and George Clinton) Bio
- Terrica Carrington (Copyright Alliance) Bio
This event is co-hosted by RWU Law The Feinstein Center for Pro Bono & Experiential Education, RWU Law The Office of Diversity and Outreach, and the Copyright Society of the USA.
This program has been approved for 1.5 Rhode Island CLE credits.
If you would like to pose questions in advance for the panelists, please email ipla@g.rwu.edu