Incitement, Insurrection, and Impeachment: Inside the Second Trump Impeachment Trial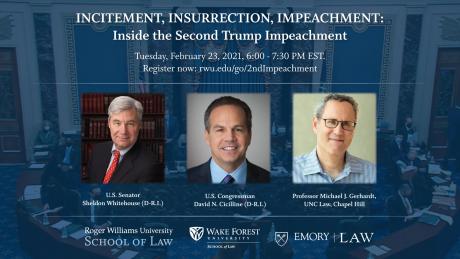 -
Virtual Program
Open to the Public
Registration Required
NOTE: We have just learned that the House and Senate are holding a bicameral, bipartisan candle-lit moment of silence this evening - Tuesday, February 23, 2021, on the steps of the Capitol, honoring the 500,000 Americans who have died from Covid-19. As a result, this zoom webinar program will be delayed to begin at 6:15 PM to accommodate Senator Whitehouse and Rep. Cicilline's schedule. Thank you.
President Donald J. Trump's second impeachment trial will affect our country for generations to come. This program will offer an up-close and in-depth view of a watershed moment in our history. As Rhode Island's only law school, our relationship with the state's congressional delegation is strong, allowing us to bring this valuable and enlightening conversation and learning opportunity to our students and the wider public.
The event will feature:
U.S. Senator Sheldon Whitehouse (D-R.I.), one of the 100 Senators who had to weigh the evidence and decide whether to acquit or convict;
U.S. Congressman David N. Cicilline (D-R.I.), an impeachment case manager who drafted and presented the charges; and
Professor Michael J. Gerhardt, special counsel to the impeachment trial's presiding officer, Senator Patrick Leahy (D-Vt.). A nationally recognized constitutional law expert and author of Impeachment: What Everyone Needs to Know (Oxford, 2018), Gerhardt is Burton Craige Distinguished Professor of Jurisprudence at the University of North Carolina School of Law, Chapel Hill. He also testified in the first Trump impeachment proceeding.
This event is co-sponsored by RWU Law, Emory University School of Law, and Wake Forest University School of Law.
The program will feature expert commentary on the trial itself, as well as a discussion of its ramifications for the future of the Senate, impeachment, the presidency, the Constitution, and the rule of law in the United States.
A Q&A session (limited to law students of the three sponsoring schools) will follow.