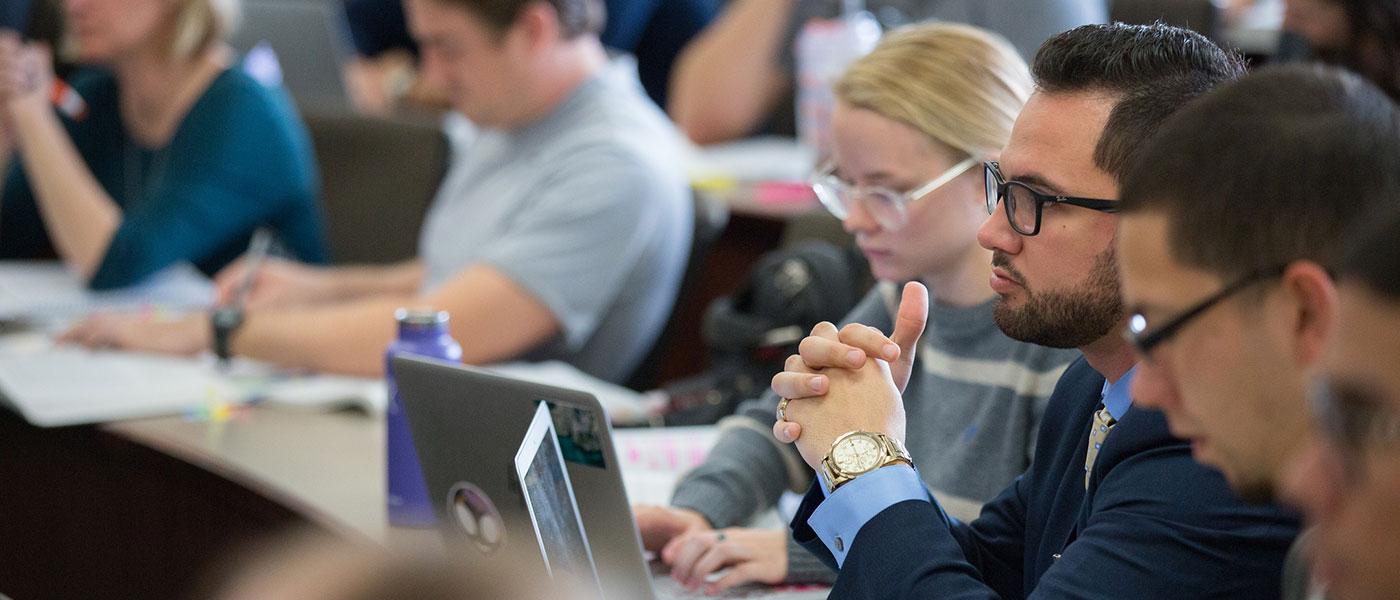 Juris Doctor
Where do you want to go with your law degree? Few degrees are more versatile than the Juris Doctor, or J.D. Whatever your professional interest – private practice, public interest, government, litigation, corporate, marine, non-legal, educational – we'll help you design an academic and experiential pathway that will get you there.
Curriculum
Are you ready to make a difference? Do you want to change the world for the better? The Juris Doctor (J.D.) degree is a powerful key that opens the door to myriad career options. Private law practice is the traditional route – whether as a sole practitioner, member of a boutique specialty practice, or part of a large regional, national or international firm. Opportunities for government lawyers abound at the local, state and federal levels. Public interest lawyers are in huge demand, working with nonprofit agencies to serve those in need – economically disadvantaged communities, immigrants, veterans and more. In-house attorneys advise companies and corporations. And many others step off these traditional legal paths altogether to forge their own way. Armed with a J.D., and powered by drive and ingenuity, the possibilities for today's lawyers are endless.
Below is a summary of courses needed for the J.D. Degree.
Curricular Tracks
Curricular Tracks are suggested paths of concentrated study, based upon various areas of law in which you may wish to practice upon graduation. They were created by the faculty and administration of the School of Law, with the intention of providing guidance to students as they plan their academic careers.
'You Have to Adapt to Survive'
Antonio Massa Viana, RWU Law Class of 2014
Juris Doctor
How does a newly established immigration law practice weather a hostile administration and a global pandemic? Ask Boston attorney Antonio Massa Viana.
Read full story
Joint Degree Programs
Take your degree further by combining your J.D. with a Master's program. You can add specialized experience and save money through one of the following Joint Degree Programs:
JD / Master of Marine Affairs
We offer a joint degree program in partnership with the Marine Affairs program at the University of Rhode Island.
JD / Master of Science in Criminal Justice
Drawing on the strengths of the School of Law as well as the Roger Williams University School of Justice Studies, Roger Williams University offers a concentrated joint degree program for students interested in criminal justice.
JD / Master of Science in Cyber Security
Put yourself on the cutting edge of the law and technology with this innovative joint degree program between RWU Law and the Roger Williams University School of Justice Studies.
JD / Master of Science in Historic Preservation
Take advantage of one of the only joint degree programs combining the law with historic preservation in partnership with Roger Williams University's School of Architecture, Art and Historic Preservation.
JD / Master of Science in Labor Relations & Human Resources
In conjunction with the University of Rhode Island Charles T. Schmidt Jr. Labor Research Center, RWU Law offers a concentrated joint degree program for students interested in extensive study of legal issues relating to employment and labor relations.
Clinics and Externships
Every student at RWU Law is guaranteed at least one substantial clinical experience and many of our students complete two or more. Here are just some of the options for getting real-world clinical experience.
Business Start-Up Clinic
Providing transactional legal services to non-profit organizations and community-based business in Rhode Island.
Learn more about the Business Start-Up Clinic
Criminal Defense Clinic
Representing real defendants in pending criminal cases under the direct supervision of a full-time member of the RWU Law faculty.
Learn more about the Criminal Defense Clinic
Immigration Clinic
Representing non-citizens in their applications for relief from removal before the Immigration Court.
Learn more about the Immigration Clinic
Veterans Disability Appeals Field Clinic
Representing military veterans pursuing disability benefits in the Court of Appeals for Veterans Claims.
Learn more about the Veterans Clinic
Clinical Externships
Second and third year students earn academic credit while working under the supervision of legal services lawyers, public defenders, prosecutors, government attorneys, corporate counsel or judges in the local community.
Learn more about Clinical Externship Programs
Semester-in-Practice
Total-immersion experience: students earn a full semester of credit while training in Rhode Island, Boston, New York - anywhere in the U.S. or around the world.
Learn more about Semester-in-Practice