Support RWU Law Students & Programs That Help Those Most In Need
RWU Law is committed to supporting our students' needs and continuing to operate the programs that provide free legal services to the most vulnerable. Keep in touch and show your support during this critical time.

Show The World That You're RWU Law Proud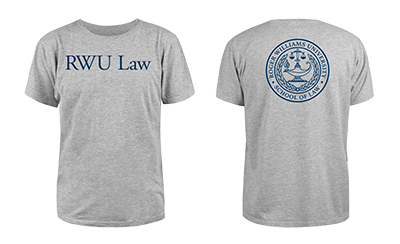 Support RWU Law students and programs. Make a gift of $40 or more by June 30th and receive a limited-edition T-shirt to show your RWU Law spirit!
We are RWU Law. Together we rise. 
Thank you for your support.
Support RWU Law
The School of Law's Office of Annual Giving is committed to recruiting volunteers, encouraging participation, and securing the resources to preserve the comprehensive, student-centered, learning experience that distinguishes Roger Williams University School of Law.
Employers, students, ratings/accreditation agencies, and potential donors all look to the School of Law's alumni involvement and contribution history to assess the commitment of our alumni and, indirectly, the quality of Roger Williams University School of Law.
Or please make checks payable to:
Roger Williams University School of Law
Office of Annual Giving
One Old Ferry Road
Bristol, RI 02809
Champions for Justice
Please join us for a special evening to celebrate and support the students, alumni, partners and friends whose exceptional devotion to social justice increases access to justice for all.