How to Prepare for Law School: BBQ/Mixer for Accepted Students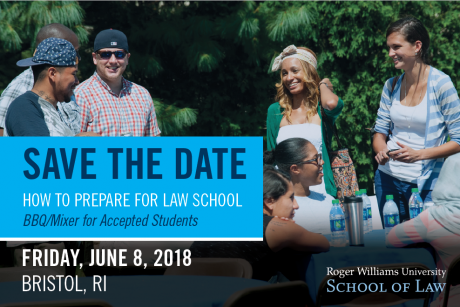 -
RWU Law Main Campus, 10 Metacom Avenue, Bristol, RI 02809
RSVP Required
Applicants admitted to the fall 2018 incoming class are invited to join us on June 8th for a keynote presentation on "How to Prepare for Law School" by Kathy Thompson, Director of Academic Success, followed by an outdoor BBQ/Mixer where students can mingle with their future classmates, current students, RWU Law faculty, and staff. This is a terrific opportunity for admitted students to meet potential roommates and explore housing options in Bristol.
Tentative Schedule of Events:
9:30- 11:00 AM Registration
9:30- 11:00 AM Law School Open House-- the following departments will be open to meet with students:
Career Development
Dean's Suite
Feinstein Center for Pro Bono & Experiential Education
Financial Aid
Library
Marine Affairs
Office of Diversity & Outreach
Office of Student Finance & Records
11:00 AM- 12:15 PM "How to Prepare for Law School" presentation
12:30- 2:00 PM Outdoor BBQ (weather permitting)
Please direct all inquiries to the Office of Admissions at admissions@rwu.edu or (401) 254-4555.