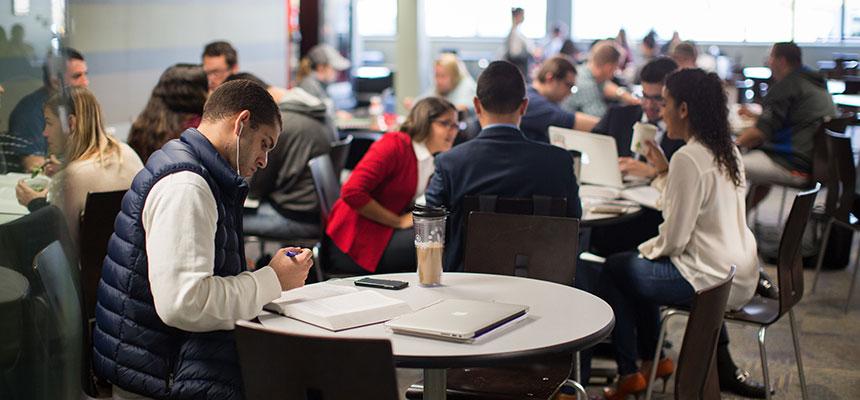 Student Wellness
Academic Success
Counseling Center
Counseling services are available to law students in the Counseling Center, located on the second floor of the Center for Student Development, which is near Cedar Hall (campus map).
The Center is open during the academic year from 8:30AM to 5:00PM, Monday through Friday. During winter break and the summer, the Center is open 8:00AM to 4:00PM, Monday through Friday.
Before meeting with a counselor, you will be asked to provide background information about yourself and your reason(s) for visiting the Center.
It is important for you to know that information related to your visit to the Counseling Center do not become part of your academic record or transcript. Information cannot be shared about the fact of, or content related to, your visit without your written permission to the Center itself. There are rare exceptions to this confidentiality, and you are made aware of them before your initial meeting with a counselor. You can discuss any questions or concerns about this with your counselor during your initial meeting.
Available on the Counseling Center website, Roger Williams University law students also have access to free, confidential online mental health screenings. These screenings assess for the following concerns: anxiety, depression, eating, mood, and trauma.
Dean of Students Office
The Dean of Students Office promotes student success by acting as an advocate and an administrative liaison for students. The Dean of Students office is equipped to provide appropriate resources and guidance for a wide variety of student needs and concerns. The Dean of Students Office is located in the Dean's Suite.
Diversity & Outreach
The Office of Diversity & Outreach at RWU Law offers a range of programs and services that assist and support law students, both personally and professionally, including: one-on-one student counseling, support to student affinity groups, and resources to parents attending law school. The Office of Diversity & Outreach is located in the Admissions Suite.
Fitness & Recreational Services
Law students are encouraged to utilize the recreational service opportunities offered on campus including use of the Aquatic Center, Fitness Center, Group Exercise classes, and Waterfront activities.
Law Library Guide on Stress Management, Mindfulness and Wellness
Law school is stressful. This LawGuide was created to help you manage that stress in serious ways and not-so-serious ways.
Spiritual Life
The University's long-term commitment to support diversity on campus extends to spiritual life, recognizing that religious diversity enriches academic inquiry. To that end, RWU has in residence a University Multifaith Chaplain and affiliated chaplains from the Jewish, Catholic, Protestant and Islamic traditions. This group works to accomplish three crucial goals: access to pastoral care for students, staff and faculty; support for programming in various religious traditions; and enrichment of interfaith life on campus.
In addition to the Spiritual Life Program, many local churches, synagogues, mosques and meditation centers welcome students from RWU.
More about the Spiritual Life Program can be found online here.