Champions for Justice
Please join us for a special evening to celebrate and support the students, alumni, partners and friends whose exceptional devotion to social justice increases access to justice for all.
Event Details
Friday, January 26, 2018
Omni Providence Hotel
One West Exchange Street
Champions for Justice Reception
6:00 p.m.
Dinner, Awards & Auction
6:45 p.m. – 9:00 p.m.
Online registration has closed. Please contact the Office of Special Events at 401-254-3166 with any questions.
Donate to Champions for Justice
The Impact
Champions for Justice is quickly becoming a hallmark of the Rhode Island legal landscape, and we are proud to count so many as friends and supporters of the Law School. Proceeds from the evening will benefit the many social justice programs within RWU Law:
Alternative Spring Break
Pro Bono Collaborative
Public Interest Clinical Externships
Public Interest Summer Stipends
RWU Law Clinics
Social Justice Program Highlights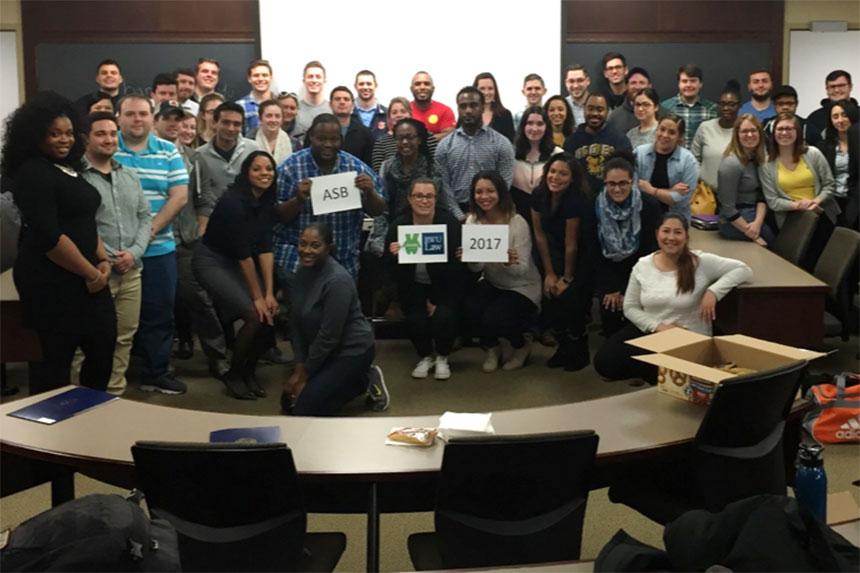 Event Sponsors
This event would not be possible without the generous support of our sponsors.
| Presenting Sponsor | Dinner Sponsor | Reception Sponsor |
| --- | --- | --- |
| | | |
PBC Reception Sponsors: Linn Foster Freedman, Esq., Trustee & Dr. Steven Freedman and Robinson + Cole
Program Sponsors: Adler Pollock & Sheehan, P.C., barbri, DeLuca + Weizenbaum, Ltd., Motley Rice LLC.
Table Sponsors: Allied Court Reporters, Inc., Barton Gilman, LLP, Cameron & Mittleman, LLP, Chapel Building Corporation/Dias Family, Chisholm, Chisholm & Kilpatrick, Ltd, Decof, Decof & Barry, P.C., Professor Jenna Wims Hashway L'11 & John Barylick, Esq., Higgins, Cavanagh & Cooney, LLP, Hinckley Allen, LLP, Keches Law Group, P.C., Locke Lorde, LLP, Manion Gaynor & Manning LLP, Marasco & Nesselbush, LLP, Omni Development Corporation, Partridge, Snow & Hahn, LLP, Pierce Atwood, LLP, Lisa J. Raiola & Waterman F.  Brown VII, Rhode Island Lawyers Weekly, Anthony A. Senerchia, Sr. '93, Shechtman Halperin & Savage, LLP, Sloane & Walsh, LLP
Honoring the 2018 Champions
Silent Auction
This year's Public Interest Auction will feature opportunities to connect with the RWU Law community of champions. Most of the auction items are "experience packages" featuring individuals who share our mission of public service, access to justice and the value of experiential education.
| Package | Package Title | Description |
| --- | --- | --- |
| 1 | Four EMC Club tickets to Redsox vs. Yankees | Four EMC Club tickets to Red Sox vs Yankees game, one parking pass and dinner for four at the EMC Club on April 11, 2018 |
| 2 | Collin Bailey L'08 CVS Tour & Lunch | Join RWU Alum Collin Bailey L'08 for lunch and a tour of CVS Health |
| 3 | Four Red Sox Tickets with Joe Farside, Jr. L'06 | Four Redsox tickets with seating in the Locke Lord Luxury box with Joe Farside, Jr. L'06 |
| 4 | Lunch for four at Parkside with Stacey Veroni and Michael Field L'97 at Parkside | Dine with representatives from the RI Office of the Attorney General - Criminal and Civil Division at Parkside Rotisserie & Bar |
| 5 | Bon Appetit Dinner | Enjoy a catered three-course dinner and exquisite wine parings at your residence for up to six guests!  |
| 6 | Dean's Night Out | Join Dean Yelnosky, Professor Goldstein, Professor Gutoff, and Dean Hassel |
| 7 | Gutoff Guided Pub Crawl on Bikes | You and three friends can enjoy a pub crawl by bicycle led by RWU Law's very own Professor Gutoff |
| 8 | Dinner at Sakonnet Point Club | You and three guests can join Professor (and RWU Alum) Jenna Wims Hashway L'11 and her husband, attorney John Barylick at the Sakonnet Point Club |
| 9 | Dinner at Capriccio | Dinner for four with the Santoros at Capriccio in Providence |
| 10 | Dinner with your favorite Professors | You and three others will dine with Professors Monestier and Coombs at Bee's Thai |
| 11 | Movie Night with David Logan | High bidder gets to pick the flick and bring up to 5 lucky guests to watch at David Logan's Man Cave. Plenty of pizza and libations, and a designated driver providing round trip transportation.  |
| 12 | Donut Worry Be Happy | Passport to the #BestDonutsRI Throwdown, a month long donut adventure for the month of February & a dozen delicious donuts delivered to you at the library any day during finals |
| 13 | Round of Drinks with Librarians | A round of drinks for four with the Librarians at Riffraff in Providence. Riffraff is a brand new super hipster bookstore and bar now open in the Olneyville neighborhood of Providence |
| 14 | One Barbri Course | Be one of the lucky five to walk away with a bar exam course simply by bidding $1695 (Market Value $3,695) |
| 15 | One Barbri Course | Be one of the lucky five to walk away with a bar exam course simply by bidding $1695 (Market Value $3,695) |
| 16 | One Barbri Course | Be one of the lucky five to walk away with a bar exam course simply by bidding $1695 (Market Value $3,695) |
| 17 | One Barbri Course | Be one of the lucky five to walk away with a bar exam course simply by bidding $1695 (Market Value $3,695) |
| 18 | One Barbri Course | Be one of the lucky five to walk away with a bar exam course simply by bidding $1695 (Market Value $3,695) |
| 19 | Ice cream at 3 Sisters with Dean Yelnosky & Laurie Barron | You and three friends can enjoy three scoops, drinks and more with Laurie Barron and Michael Yelnosky at Three Sisters in Providence  |
| 20 | Park like the Dean | For the month of February, enjoy parking in Dean Yelnosky's parking space |
| 21 | Dinner for four with Professor Deborah Gonzalez L'04 | Authentic homemade dinner for four by Professor Gonzalez L'04 |
| 22 | One Night Stay at Omni Hotel | Enjoy a one night stay at Providence's luxurious Omni Hotel |
| 23 | Hemenway's - Lunch for 5 students | Enjoy lunch for five at Hemenways with Michael Voccola, Esq. L'97 |
| 24 | Weekend Stay at Residences | A weekend stay at the luxurious Residences Providence. Enjoy a center-of-the-city local vacation in an exquisitely furnished residence in the prestigious Residences Providence tower.  |
| 25 | Sailing trip with Cecily Banks, Gutoff & Casey Charkowick L'16 | You and three others can experience a 5-7 hour sail circumnavigating Prudence Island with pirate expert Jonathan Gutoff, RWU Alum Captain Casey Charkowick L'16, and former yacht captain Jonathan Banks |
| 26 | Lunch with Professor Andrew Spacone | Lunch at Café Nuovo with the Man All About Business |
| 27 | Let's Run Out for a Beer! | Enjoy a nice long (but not too long!) run to a pub with Dean Yelnosky, Dean Lalli L'01, Professor Colleen Brown, and Ed Fitzpatrick and a $100 gift card to Rhode Runners |
| 28 | Paint and Wine Night with the Feinstein Ladies | Enjoy a Paint and Wine night with Laurie Barron, Eliza Vorenberg, Suzanne Harrington-Steppen and Lisa Quinn |
Crowdfunding Instructions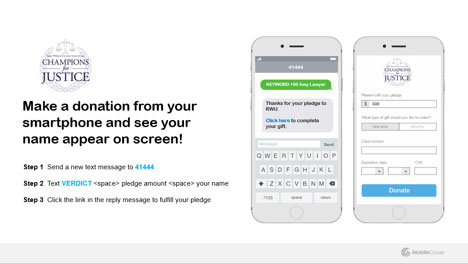 Each year, dozens of  RWU Law students accept unpaid public interest summer internships at amazing organizations in RI and around the country. Last summer, 28 students received public interest summer stipends and provided over 8800 hours of legal service in organizations such as The Rhode Island Public Defender, Rhode Island Legal Services, Inc., RI Center for Justice, Providence Youth Student Movement (PrYSM), the Native Hawaiian Legal Corporation, The Knox County Public Defender's Community Law Office, The Bronx Defenders, and MidPenn Legal Services. Please support the stipend program by pledging today. Make a pledge by sending a new text message to 41444, and text VERDICT <space> pledge amount (do not use $ or .oo in the pledge) <space> your name. Click the link in the reply message to fulfill your pledge.
Helpful tips!
Please use appropriate language for your preferred name (nicknames are ok)
Text is not cap sensitive
Do not use $ or .00 with the donation amount
Dollar amount will not display publicly on the screen, only your name
Student helpers are in the room to assist you
Your donation counts as your annual gift to RWU Law and is tax-deductible.