Library Blog
Do Not Be Alarmed: No One Stole the Cheese Off Your Pizza!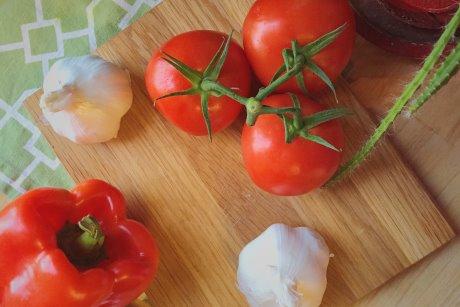 This summer the Legal Beagle has been trying and writing about different types of quintessential Rhode Island foods. This week's Rhode Island staple being discussed is a pizza strip.
Sometimes called a party pizza, a bakery pizza, or a tomato pie, these tasty treats are often found at barbeques, parties, and bakeries all over the Ocean State. For those of you who have not tried our regional delicacy, they are "rectangular slices of focaccia-style bread topped with spicy tomato sauce. They have no cheese (unless you count an optional sprinkling of grated Romano) and are properly served at room temperature." Some believe they are an Americanization of Cudduruni from Lentini while others see them as a predecessor to modern pizza as we know it stating, "Pizza strips are a comfort food that probably predates what we now think of as pizza. Food historians trace pizza's origins to Naples, Italy, in the 1800s, and note that it wasn't until 1889 that cheese was added as a topping. A pizza without cheese is today recognized as one of the three official authentic Neapolitan pizzas and is called pizza marinara."
However pizza strips developed into being, they are indeed here and part of the fabric of our state's cuisine. While other areas of the East Coast have them, or their cousin scachatta, there are likely most ubiquitous in Rhode Island. And you can even get them delivered to your door!
 If you want to venture out this summer and try pizza strips, this list from Yelp is for you! Buon appetito!
Library Blog