Study Rooms
NOTE: In response to the ongoing COVID-19 situation, Study Rooms will not be available for reservation until further notice.
*** Make an advance reservation. ***
Room Reservation Policy
There are nine small rooms which can be used for study or audio/video review. Two of the rooms are equipped for audio/visual use, rooms 171 and 173. Use of all of these rooms is governed by this room reservation policy which covers advance reservations, room renewals, cancellations, and consequences of the misuse of rooms. The reservation policy was implemented to address concerns about fair access to the study and audio/visual equipment rooms in the Library. 
Under this policy, only students, faculty, alumni, and staff of the Roger Williams University School of Law may reserve rooms for study or audio/visual playback.
Advance Reservations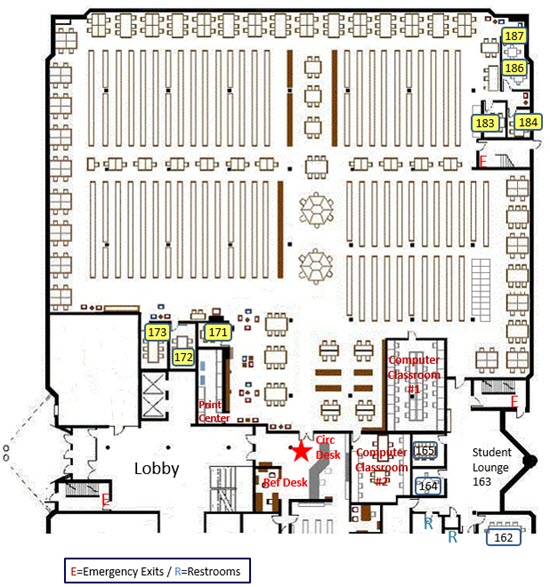 Current RWU School of Law students must reserve a study room by placing a reservation using the online room reservation system. Reservations may be made for up to week in advance of the current date. School of Law faculty and staff may also place reservations using the online room reservation system. Reservations will not be accepted at the circulation desk. For reservations not within the parameters of this policy, RWU Law faculty, staff, and alumni need to contact full-time library staff for assistance to reserve a room.
Groups. All rooms seating four or six may be reserved in advanced by groups of two or more users. Room 223 may be reserved in advance by groups of four or more users. Listed members of the group may not overlap with any other group.
 Individuals. Rooms 171, 183, 184, 186, and 187 are also available for advanced reservations by individual users. A reservation made by an individual does not prevent a group from listing that individual as a member. However due to system limitations, the individual may not be the primary person making the reservation for the group.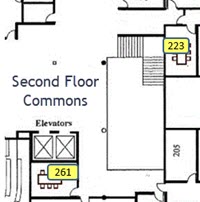 Advance reservations are limited to one block of time per day. The block of time may be for a maximum of three hours and may not be split into smaller blocks.  Reservations may start on the hour or half hour.
Renewals
Renewals are permitted if the room has not been reserved. Patrons should go to the Circulation Desk to renew a room. They may continue to renew the room in up to three hour increments for as long as the room is not reserved.
Reservation Cancellations and Misuse of Rooms
Failure to appear for a reserved time slot within 15 minutes of the start of the time slot will result in the cancellation of the reservation and the room will become available for others to use.
Overdue room keys may not be renewed.
Possessions left in rooms reserved by other patrons will be subject to removal by library staff.
Failure to comply with these policies may result in the cancellation of your reservation.
Continued failure to comply with the policy will result in loss of the privilege to make advance room reservations for the remainder of the current semester.