Print/Copy/Scan/Fax
Print/Copy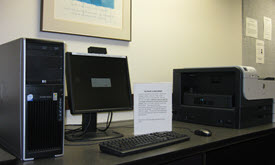 Two networked printers are available in the Library Print/Scan/Copy Center and one network printer is available in computer classroom 2. Computers in the open area and both computer classrooms can print to any of the Library's network printers. In the Library Print/Scan/Copy Center, law students also have access to Lexis printers. For non-circulating materials that must be copied, the library provides a copier in the Library Print/Scan/Copy Center.
Scan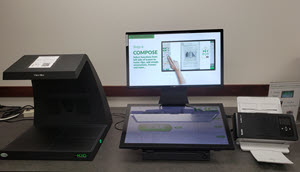 The KIC book scanners are located within the Print/Scan/Copy Center. They allow the library's patrons to scan books or, by using the sheet feeders, to scan documents. The scans can be delivered via USB, Google Drive, OneDrive, Dropbox, Box, email, or QR code.
The microfiche and microfilm reader/scanner is also located in the Print/Scan/Copy Center. Library patrons are able to read and scan to disk or USB any of the materials the library makes available via microfiche and microfilm.
Fax
There are web-based services available for use to send or receive faxes for free. The library does not have any fax machines for public use.
To send a short fax, consider:
Faxzero is a free web-based service that is advertiser supported; the site puts an advertisement on a coversheet that the recipient sees. It permits users to send up to two free faxes per day to machines in the United States, Puerto Rico, or Canada. The maximum file size for the fax is 20MB. For longer or advertisement free faxes, there is a charge of $1.99 a page via Paypal. International rates may also be higher, typically around $4 per fax. Faxzero supports .doc or .pdf files, image files such as .gif, or a text based message.
To receive a fax, consider:
The eFaxFree plan allows you to get a fax number (not always a local number) that sends faxes as an attachment in your email. The free plan provides the ability to receive up to 10 faxes per month. It does not provide the ability to send faxes for free using the eFaxFree plan, but the eFax Plus account provides the option of paying for a monthly plan with many other features.