Off-Campus Access to Digital Resources
Off-campus access to the Law Library's digital resources is available to Roger Williams University School of Law faculty, students, and staff using the links from Law Library's Digital Resources page and WebCatalog.
Single Sign On Access
Single sign on allows you to access digital resources using the same User name and password which you use to access the RWU campus portal.
For students the User name is: [your_default]@academics.rwu
For law faculty & staff: the User name is [your_default]@rwu.edu
You will see a Login screen like the one below: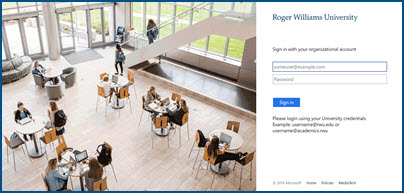 If you encounter any difficulties accessing the Law Library's Digital Resources, please contact us at LawLibraryHelp@rwu.edu.