Off-Campus Access to Digital Resources
Off-Campus Access to Digital Resources
Off-campus access to the Law Library's digital resources is available to Roger Williams University School of Law faculty, students, and staff using the links from Law Library's Digital Resources page and WebCatalog. All patrons also have the ability to view their own Patron Record.
With both options, the library software will prompt you to provide your name, library barcode, and PIN.
The library barcode is on the back of your School of Law ID and will start with the number "25166...".
Your PIN is six alpha/numeric characters selected by you.
You should see a Login screen like the one below:

If you do not have a PIN and need to establish one for the first time, enter the following on the Login screen:
Your name in the Name field.
Your barcode in the Bar Code field (from the back of your RWU Law ID (starts with 25166….).
Any character in the PIN field (any number or letter).
Click on the Submit button or press ENTER.
The system will recognize if you do not already have a PIN and take you to the page on which you can create a PIN: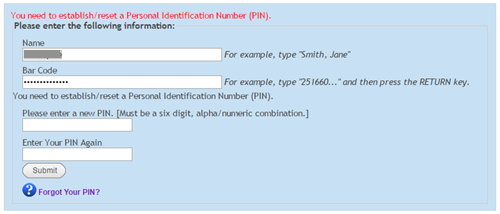 If you already have a PIN, you will receive the message "Sorry, the information you submitted was invalid. Please try again."

If you already have a PIN and do not remember it:
Click on the Forgot Your PIN? link (see below).
You will receive an email with a link to reset your PIN.
The email will go to your RWU email address.
Use the link supplied to reset your PIN.

If you still have problems, please contact the law library to verify that your patron record is up-to-date.