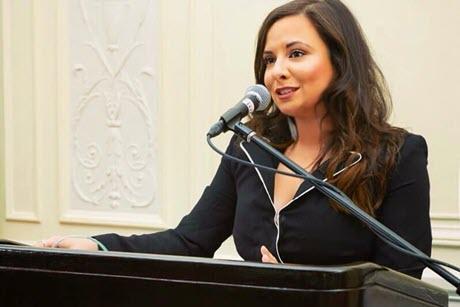 This week the Legal Beagle is doing some serious journalism by interviewing Professor Raposa. Below is a transcript of our conversation:
1. What is the best piece of advice anyone ever gave you?
 To not let anyone else impact your happiness, and similarly, to not care about what anyone says or thinks about you. This is all easier said than done, but it's advice I constantly remind myself of. 
2. What is the most rewarding part of working with students on bar exam studying?
Being even a small part in someone's journey to becoming an attorney is extremely rewarding. It's a high stakes exam and an extremely stressful part of someone's life. Being able to just coach someone through it and help someone improve their performance and reach their goal is amazing. I love this job because I get to, in some way, help some people achieve their dream. I think that is so cool.  
3. What is your favorite rom-com?
How To Lose A Guy in 10 Days…hands down! 
4. Backstreet Boys or NSync?
Both posters were on my walls growing up but I would have to say NSync. Although, "I Want It That Way" is an ultimate classic that I blast in my car on the way to work often. My parents have a really embarrassing video of me singing and dancing to "Bye Bye Bye" by NSync that they like to show me often. No, you can't watch it. 
5. What is your favorite type of donut? Please describe and explain.
I like the cookie dough donut the best from a small bakery in Fall River, MA. It's a donut filled with cookie dough, with chocolate frosting and cookies sprinkled on top, with a syringe of fresh milk sticking out of it. It's so good (in moderation)! But, all donuts are amazing. 
6.  What is your pet peeve as a professor?
I have two main ones and I couldn't choose just one! (1) When students use their cell phones during class (and yes, every time it's very noticeable even if they're trying to be suave under the desk); and (2) Being called "Brittany" instead of "Professor Raposa." 
7. Someone told me you love Ryan Cabrera? #truth or #fake news?
Loved…past tense. I was a weird kid. When I was 15 he told me he liked my shirt and it's all I talked about for a year. Clearly I lived an exciting life. 
8. Let's talk about your pup. Tell me what he was this year for Halloween?
I have a mini daschund named Fynn. I adopted him two and a half years ago and he's three years old. He's also just the best. He was superman for Halloween this year. In the past he's been a hot dog and an alligator. You can catch a lot of pictures of him in my office!  
 
Library Blog