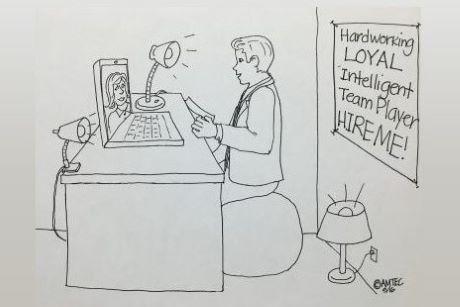 Most law students agree, having a job when you are done with law school is preferable to not having a job.  But how does one go about getting a job?
One great resource is the RWU Office of Career Development. Dean Paricio and the career development team are here to help you land your dream law job. How will they do that? The Office of Career Development provides opportunities to meet with prospective employers. They help prepare you with mock interviews and provide access to Symplicity, a system of tools and connections to enhance student employability, including a list of current job openings. They also work with other law school career development offices across the country through their reciprocity programs. The Office of Career Development also maintains relationships with firms and businesses that actively recruit our alumni.
The law library has created a TimeSaver on Job Searches. This is a library guide which gives you a one stop place to shop for resources related to job searching and preparation.  This guide includes resources for helping you draft a resume, how to handle interviews, how to develop a professional network, and how to get started.
Another way to find a job is to network with current attorneys. One can do this as a law student by joining the state bar associations and participating in the bar association events. For example, the Rhode Island Bar Association has student memberships for $50. Both the Massachusetts Bar Association and the Connecticut Bar Association offer free student memberships. There are also city and county bar associations as well as affinity group or specialty bar associations.
Legal newspapers usually have a classified section where firms post job openings. The law library has both the Massachusetts Lawyer's Weekly and the Rhode Island Lawyer's Weekly. The American Bar Association maintains a career center with postings for legal jobs all over the country.
Library Blog