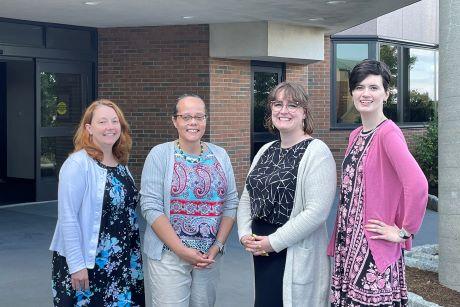 This summer brought many changes to the library staff--one retired, another moved closer to family, and two others moved on to new challenges that use their skills and experience working at the library. This month brought two new librarians to our library, joining two others that have become an integral part of our reference and research services.
Lindsay Koso L'22, joined us on August 8 as a reference librarian.  During her studies at RWU Law, she was an avid researcher, self-proclaimed Bluebook nerd, and worked as a student library assistant. She was an articles editor for the RWU Law Review, secretary of the RWU chapter of the National Lawyers Guild, and a mentor and member of the Honors Program. Prior to RWU Law, Lindsay had a career in cultural heritage preservation, management and advocacy.
Misty Peltz-Steele, joined the law library on August 15 as the Associate Law Librarian. Prior to joining RWU Law, she was the Associate Director at UMass Dartmouth's School of Law.  She has prior experience as a law firm librarian, legal services staff attorney, investigator/law clerk for a public defender, and as an officer in the U.S. Navy. Misty is also no stranger to RWU Law, having interned at the law library while attending library school at URI.
In addition to our new librarians, our reference/research staff has two other continuing staff members.  Erin Orsini, our Access Services Coordinator, and Jessica Silvia, our Faculty and Digital Services Assistant, answer questions from students and faculty on many topics, including how to find materials in the library and beyond, help with digital resources access, how to use library technology, and much more.
As the law library director, I also provide reference and research services, but I couldn't do it without this team of wonderful professionals ready, willing, and able to answer your questions.  If you cannot come to the library to ask us your questions, please remember to email us at lawlibraryhelp@rwu.edu.
Raquel Ortiz
Assistant Dean for Library & Information Services.
Library Blog