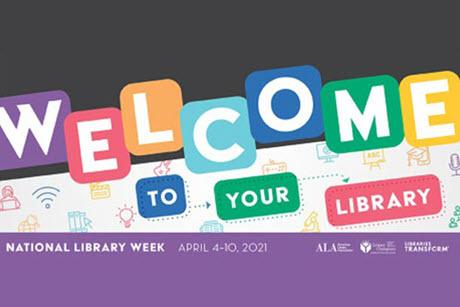 Each year, libraries across the United States celebrate National Library Week. This year, National Library week takes place April 4-10, 2021. This annual celebration highlights the valuable role libraries, librarians, and library workers play in our lives and our communities. 
The American Library Association chose "Welcome to Your Library," for the theme of National Library Week 2021. Libraries offer opportunities for everyone through access to technology, multimedia content, and education programs in person and virtually, especially this year. The RWU Law Library offers a variety of services, resources, and programs in person and virtually extending far beyond the walls of the building. 
This year at RWU Law Library we will be taking time to celebrate our library student workers, our full-time staff, and our amazing patrons, of course!  To celebrate National Library Week with us, please stop by the library for one of these events:  
Tuesday, April 6: National Library Workers Day: If you see a student worker, library staff member, or librarian be sure to thank them for all that they do.
Wednesday, April 7: National Library Outreach Day: a day to celebrate library outreach. Join us for our Law Library Grab-N-Go Event in the Law School Atrium between 11:00 AM – 12:30 PM to pick up your Library Themed grab bag. 
Happy National Library Week! 
Library Blog