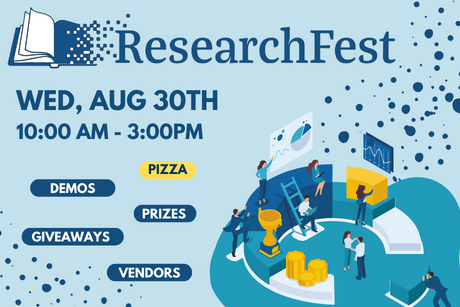 The law library is pleased to announce the return of ResearchFest on Wednesday, August 30th from 10am–3pm.  Please join us for this digital resource showcase, where our amazing resources beyond Lexis and Westlaw will be on display.  You can also plan on a pizza lunch as well as fun giveaways and prizes. 
Do you want to learn more about our digital study aids? Expert trainers from Aspen, West Academic, and Lexis will be on hand to teach you how to use their libraries. Want to know how to find court dockets and filings? A Fastcase trainer will teach you about one of our newest resources—Docket Alarm.  A trainer from Gale will also be available to demonstrate their Virtual Reference Library, while a Proquest representative will explain how to find legislative history and locate congressional documents. Your law librarians plan on joining in on the fun as well and will be showcasing different digital resources throughout the day.
Demonstrations will run continuously so visit us at any time from 10am–3pm.  You only need to attend three demonstrations to enter prize drawings. 
This is the law library's first ResearchFest since 2019.  We're excited to bring the event back to RWU Law as a means of giving the entire law school community an opportunity to learn about all the digital resources available through the law library. 
For more information, see our ResearchFest 2023 guide.
Library Blog