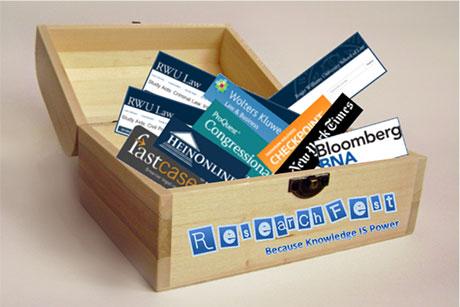 Efficient, effective research is one of the most valuable skills you can develop for your professional career.  Legal Practice courses introduce all lawstudents to the leading legal research platforms, Lexis and Westlaw, but these are just two of many tools available. A professional selects the best tool to use for each project from the full assortment of tools available.
ResearchFest provides an opportunity for students and faculty to discover several alternative research platforms and resources to add to their toolbox of research resources.  During the event, you can visit informally with representatives for these resources as they show you how to use their tools for legal research. 
Resources represented include: 
Bloomberg BNA, the third major legal research platform; 
Fastcase, one of the largest online legal research libraries;
HeinOnline, a premier service providing a vast array of searchable image-based legal materials;
Lexis Digital Library, a new service by LexisNexis and OverDrive® that offers access to the largest collection of authoritative legal eBook content on all major mobile devices and desktop platforms;
ProQuest, a key source for locating Congressional materials; and
Roger Williams University Library, Sue McMullen from the University Library will be there to explain and demonstrate how to access a variety of campus-wide resource subscriptions provided by the University Library.
You may even grab a slice of pizza and see demos from the Law Library's librarians on tools for law study, career research, tax research, and current awareness. You don't want to miss it!
Participation allows you to sign up for prizes or get snacks and giveaways!
Library Blog