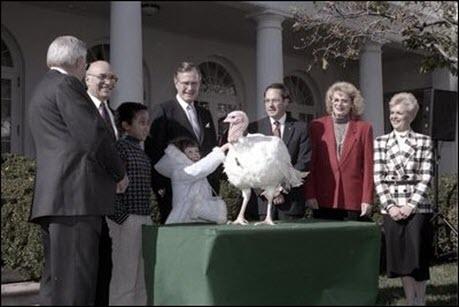 One of the library staff's favorite holiday pastimes is finding the nexus between law and the holidays. While there are several ways that Thanksgiving is related to law, the one we are choosing to highlight this year is the presidential turkey pardon.
While the presidential turkey pardon has become a yearly tradition, it is a relatively new tradition. The first turkey spared by a president has been traced to Abraham Lincoln. According to an 1865 dispatch by White House reporter Noah Brooks, Lincoln's son Tad asked his father to spare the turkey's life. Tad had adopted the turkey as a pet. Although Lincoln did spare this turkey's life, the turkey was planned for Christmas dinner not Thanksgiving dinner.
Reports of turkeys sent to the White House as gifts at Thanksgiving can be traced back to the 1870's. Horace Vose, a Rhode Island poultry dealer, began sending turkeys to the White House in the 1870's until 1913. Vose's death in 1914 brought about the opportunity for others to send turkeys to the president for Thanksgiving. Official presentations of live turkeys to the president began in 1947 with the National Turkey Federation presenting a live turkey to President Truman. Because of this photo op, Truman is often accredited with the first turkey pardon, but he did not pardon the turkey.
In 1963, President Kennedy spared a turkey's life at the presentation event when he stated, "Let's keep him going". In 1973, during the Nixon presidency, the turkey was sent to Oxen Hill Children's Farm. First Lady Rosalynn Carter sent the 1978 turkey to Evans Farm Inn to live in a mini zoo. It became the norm for the turkeys to be sent to farms during the Reagan administration.
The pardoning became formalized and official in 1989, when President George W.H. Bush pardoned that year's Thanksgiving turkey. "He's granted a presidential pardon as of right now — and allow him to live out his days on a children's farm not far from here." Since 1989, each year, the U.S. President officially pardons a turkey from the Thanksgiving table.
Library Blog