Library Blog
An Uncomfortable Truth: Indigenous Communities and Law in New England Symposium Resource Guide Now Available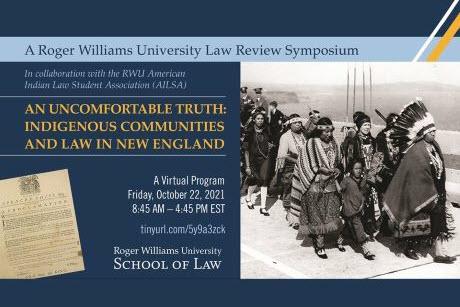 To support this year's virtual Roger Williams University Law Review Symposium, An Uncomfortable Truth: Indigenous Communities and Law in New England, the law library has created this guide showcasing books and online resources on this topic.
The guide features content in the law library's collection and beyond, with special attention given to resources written and edited by the symposium speakers. Register here for the law review symposium, presented in collaboration with the RWU Law American Indian Law Student Association (AILSA). See the symposium program here. 
This educational and engaging virtual event may be of particular interest to RWU Law students because one of the speakers is Dr. Taino Palermo, a RWU Law 3L. Dr. Palermo had the opportunity to participate in an independent research project focusing on a Legal Framework for Federally Non-Recognized Tribal Nations acquiring ancestral lands and he will be presenting his research paper and answering questions on the topic. Come support your fellow student and learn from these well-known and highly regarded scholars!
Library Blog