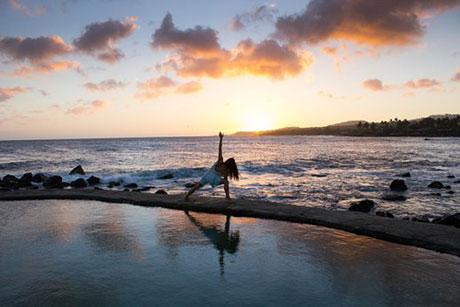 The library's commitment to help students wherever they are means that we are always trying to find new and different ways to support the wellness of law students.
One way that we are working actively to support our students is via our online LawGuide about Stress Management, Mindfulness and Wellness. This guide features resources in the library and outside the library to encourage wellness. The last page of the LawGuide is a photo tour of reflective spaces on the RWU Campus (pictures by the library's own Kathleen MacAndrew!). 
In addition, the library's collection contains resources in print and online that provide information on how to help manage exam stress.  We are always looking to expand and develop our collection in this area. One awesome resource we discovered recently is a podcast by Stanford Law School Professors Joe Bankman and Sarah Weinstein. This monthly podcast is focused exclusively on wellness and mental health in the legal profession. 
Finally, we have a well-stocked coloring book a collection for those who prefer to color or do(odle) rather than listen, read, or talk. While there are some colored pencils and coloring pages in the stacks, there are also crayons, doodling books, and other coloring supplies, which can be borrowed at the circulation desk.
Our library staff cares about you and your wellness. You must take care of yourself before you can take care of your school work and others. If you prefer advice from a superstar instead of a librarian, it looks like DJ Dhaled is thinking along the same lines we are.  In the words of DJ Khaled, "It's a cold world. Bundle up. Key"
Library Blog