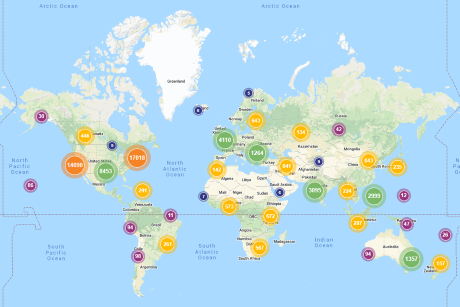 If you have been with us since the COVID-19 pandemic began, chances are that you might think that classroom tech support is a good chunk of our faculty services.  Or perhaps you know that we also provide document delivery services for faculty, in the form of books and articles from the RWU libraries, and Interlibrary Loan from our partner libraries in the U.S. and beyond.
Let's break down what we REALLY do for faculty. 
The library staff assist faculty at all stages of the scholarly process.  Document delivery requests may seem simple, but may require us to find materials in languages we don't speak (French, German, and Russian), very old (1739) newspaper articles, unpublished Congressional materials from 1941, and even visiting a library outside RI while we are traveling for work or fun to obtain an obscure item that is only available in that library and that we can't get on Interlibrary Loan.  We also create "current awareness" searches for faculty, which locate new materials on licensed databases based on keywords that we select to describe the topic.
Sometimes instead of borrowing items from another library, a faculty member may want us to purchase a copy of a book, a specialized database that they need for their research, or a copy of a book that they can keep in their office for an extended period of time.  In this case, the Collection Services team takes over.  They will work with the faculty member to obtain the needed resource as quickly as possible, usually within a few days for a book or journal issue, a little while longer for databases due to the licensing process.  In some instances, faculty may not want their own copy but want to see a publication that we purchase for the library or just a table of contents.  The Collection Services team will "route" the publication or table of contents to the faculty member for review.
The librarians field a variety of research requests that may be done in as little as five minutes or may take months to complete.  It may be as simple as filling in a citation so that an item can be located, identifying and locating historic photographs based on a description of an event or series of events, assisting a faculty member track down the origin of a specific clause in a state statute, tracking down film footage of historic events, transcriptions of radio or news shows, images that appeared on social media, identifying quotes that faculty members know exist (or exhausting resources to show that they don't), and more.
We also help faculty with the scholarly communications process.  That may involve helping a new faculty member learn more about specialized journals, uploading their recently completed papers to the Legal Scholarship Network on SSRN, and adding those papers to the Roger Williams University Legal Studies Papers series also on SSRN.  Once the article is published, we secure permission to upload a copy to the Law Faculty Scholarship collection in the RWU Digital Repository, which is accessed by readers around the world!  As a final step, we add the publication to their RWU Law directory profile so that visitors to our site can easily see what they have written.  We also update those profiles regularly with new biographies, CVs, and other information that faculty provide.
Now let's return to where we started – the classroom.  Sometimes faculty members want to show a movie that we cannot purchase from mainstream stores or is not available from a streaming service.  In that instance, we will assist in securing the movie from the publisher or license it for short term use.  We assist faculty in identifying which recommended or required readings are available in licensed or free ebook collections so that you don't have to spend money on those sources. The librarians have also assisted faculty in creating "open electronic resources" rather than relying on expensive supplements.
You know that we teach in conjunction with the required Legal Practice program, but did you know that we also teach in many other classes and credit bearing programs? We teach the Sea Grant Fellows, research sessions for the clinics and experiential classes, paper research for seminars, and even how to use Adobe Acrobat for clinic students!
Library Blog