RWU Law Opportunity Scholarship
We are pleased to announce the establishment of the RWU Law Opportunity Scholarship – a newly endowed fund that will provide tuition assistance in perpetuity to students. This important fund advances our commitment to creating a diverse and inclusive law school by opening our doors wider to students of all means and all backgrounds.
The RWU Law Opportunity Scholarship was established to advance RWU Law's commitment to providing increased access to a legal education and equal opportunity for all law students. This scholarship is awarded annually and recognizes students who demonstrate financial need, a civic-mindfulness and a desire to advance community issues. Preference is given to first-generation college graduates and/or those for whom English is not their first language.
Central to the mission of RWU Law is to attract, retain and support a diverse faculty, staff and student body. We firmly believe that learning in an inclusive environment improves the educational experience for all students. At RWU Law, we recognize that access to the legal profession, and the privileges and responsibilities that come with it, was limited to select populations for far too long. The RWU Law Opportunity Scholarship will give students with different cultural backgrounds, perspectives, and life experiences a vital resource to pursue their dreams of a legal education.
By supporting the RWU Law Opportunity Scholarship, you are helping us to attract and retain students who might otherwise not have the financial means to consider RWU Law.
RWU Law Opportunity Scholarship Recipient - Leighann Agyemang
Click to Open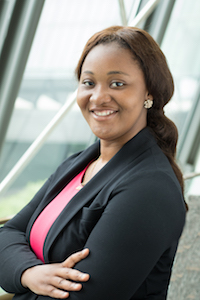 The first recipient of RWU Law's new Opportunity Scholarship says she'll use it to help change her world – bringing the power of the law to bear for the poor and disadvantaged, particularly in the field of education.
"When I got the call that I'd been selected for the scholarship, I was so excited," says first-year law student Leighann Agyemang. "I'm the first in my family to attend law school. I commute from Worcester every day, and I basically have no help. It's me doing everything for myself, so this award provides an extra boost that really helps."
As a teenage immigrant from Ghana, Leighann Agyemang got her first exposure to the crisis in American public education in 2015-16 while serving in an AmeriCorps program as a math and ELA tutor, mentor and coach at a high-poverty public school in Boston.
"I used to see special education cases, but the schools just didn't have the resources to give each of them the services they needed," she recalls. As a result, many of these students quickly got into trouble for small or avoidable infractions. One girl, for example, got a 40-day suspension for carrying a pair of nail clippers in her bag, thereby violating a zero-tolerance policy against having "weapons" in school. Another was being mercilessly bullied, and finally found the courage to defend herself – only to be suspended and brought up on criminal charges for assault (her wrist was in a cast, which was also adjudged by school authorities to be a weapon). 
Soon afterward, however, Leighann secured a job as a legal advocate at Community Legal Aid in Worcester, Mass. "I was working on cases involving family law, special education, public benefits and housing," she says. "Soon I began seeing things from a poverty law perspective – by representing the students instead of the school. And I became very passionate about special education – as in, policies such as these zero-tolerance rules need to change."
As it happens, Leighann's mentor at Legal Aid was Weayonnoh Nelson-Davies '07, who had also immigrated as a teenager from Africa (Liberia, in Weayonnoh's case) a harbored a similar passion for social justice. "So many of the things I want to accomplish, she'd already accomplished – we just had so much in common," Leighann says.
The admiration was mutual. Seeing Leighann's potential, Weayonnoh soon urged her to apply to law school. As Leighann notes, "Anyone who has seen Weayonnoh at work will tell you great stuff about her lawyering skills – and she told me outright, 'The experiential and pro bono programs at Roger Williams shaped who I am as a lawyer today.'" When Leighann later worked under another RWU Law graduate at Legal Aid – this time, Kate Gannon '15 – "once again, it was constantly 'Roger Williams this, Roger Williams that!'  And so I did my own research and thought, 'Okay, this is a law school that could cater to my public interest goals.'"
Weayonnoh is proud of her mentee's decision. "Leighann is someone who understands the importance of access to justice and the impact of the law on society," she says. "I know she'll be a phenomenal lawyer because she is bright, passionate and creative, and will devote her very best to her clients."
For now, of course, Leignann is totally immersed in the formidable demands of the 1L curriculum. But she still has her eye on the future.
"I can't wait to get into the more experiential learning aspects of the school's public interest programs," she says. "I want to learn the skills that will make me a better lawyer to advocate for low-income people, to do poverty law. I want to become more open-minded. But my main goal is to work with the school-to-prison pipeline. Because that's what normally happens. When a child is suspended – like, for instance, my student who had the nail clippers in class – most of the time the school will call it a criminal case – and once a child is pulled into that cycle, it's very hard to escape."