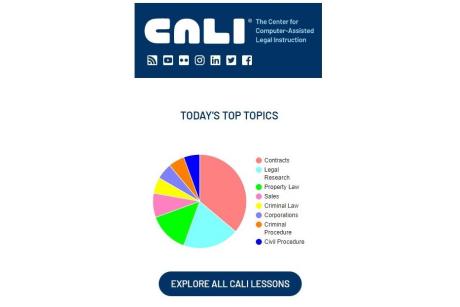 With the end of the semester and finals quickly approaching, some of you may be searching for resources that will aid you in your studying.
CALI or The Center for Computer-Assisted Legal Instruction is a non-profit consortium of law schools, law libraries, and other related organizations. CALI tools, authored by expert law professors and law librarians, help enhance your study of legal concepts and legal research. 
The law library offers free access to several CALI tools including CALI Lessons. CALI Lessons consist of over 1000 interactive lessons in over 40 legal subject areas. Lessons are accessible via mobile devices as well as via the CALI website. Lessons are divided into first year lesson topics and upper-level lesson topics. 
When signing up for access to the CALI lessons, use the law school's authorization code from orientation. If you do not have this code, please ask a reference librarian. CALI has so many fantastic resources for research (including a legal research coloring book authored by two of your favorite RWU Law Staff Members), for the study of substantive law, and for general legal fun.
CALI is also a source for free eBooks, including the Federal Rules of Appellate Procedure, Civil Procedure, Criminal Procedure, Evidence; and for Lawdibles (10 minute audio recordings by law professors answering specific law school questions).
Don't forget, if you have any questions or need assistance using the Law Library's resources, please ask your friendly librarians! You can stop by the library or email us at lawlibraryhelp@rwu.edu.
Library Blog