Library Blog
Celebrating the 100th Anniversary of Women's Suffrage at RWU Law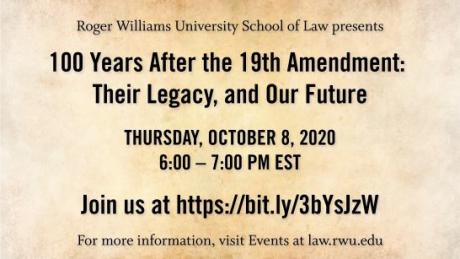 This week at RWU Law we are celebrating the historic centennial anniversary of women's suffrage in the United States. The ABA Standing Committee on the Law Library of Congress Traveling Exhibit, which features historic photos and artifacts primarily from the Law Library of Congress, details the story of the battle for ratification and outlines the challenges that remain. The 19th Amendment Traveling Exhibit will be at Roger Williams University School of Law Library October 5 – October 9, 2020.
To accompany this exhibit, the library has put together a resource guide. This guide contains books from our collection and online content on this topic.
Additionally, we will be hosting a virtual program for the community on Thursday, October 8, 2020 at 6:00 p.m. Please join us as we celebrate the exhibit, with three leaders discussing diverse aspects of the Amendment's critical and complex legacy – and its meaning for our political future.
Rhode Island Secretary of State Nellie Gorbea will discuss issues surrounding the upcoming 2020 election, and the importance of our vote and engagement in the political process.
Professor Gloria J. Browne-Marshall, of John Jay College of Criminal Justice, will examine the journey of African-American women from suffragists to attorneys and voters, eventually emerging as modern political power-brokers.
Ms. Sara Guillermo, Executive Director of IGNITE, will discuss ways in which women can leverage their political power and unleash their potential in civic and political leadership.
For more information about the event or to register, click here. 
Library Blog