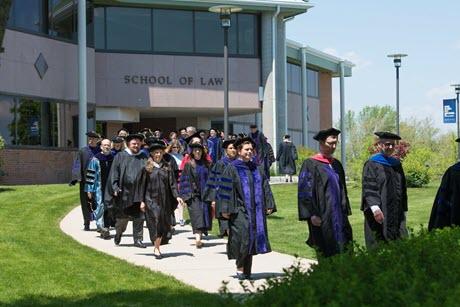 It is almost here! That day you have been waiting for since the first day of orientation: graduation day. 3Ls, you have come a long way and the Law Library extends a big Congratulations! to you all.
Law School Commencement will take place on Friday, May 18th at 1:00 p.m. In preparation for the big day, why not take some time to listen to some of the "best commencement speeches, ever" and get jazzed up! Thankfully you no longer have to give a speech in Latin, Hebrew, or Greek in order to get your diploma, so you can look forward to a day solely devoted to celebrating your accomplishments.
Although you will be transitioning to the next phase of your career, please remember that the law library is always here to be of service. In the short term, we have information on our website about post-graduation access to some of our subscription databases.
Graduates have until June 30, 2018 to redeem their LexisNexis Rewards points. You will receive an email reminding you. Also, on July 1st your view of the Lexis Law School Home Page will switch from your current view to the graduate view. This new view will provide career and job search info and you will be awarded 10,000 Graduate Rewards points that can be redeemed for LexisNexis eBooks and online subscriptions for Lexis Practice Advisor, Lexis for Microsoft Office, and Law360. Lexis also has the ASPIRE program which provides 12 months of free access to federal and state cases, codes, regulations, law reviews, Shepard's, and Matthew Bender treatises to graduates who are engaged in verifiable 501(c)(3) public interest work.
Graduates will also have access to Thomson Reuters products, including Westlaw and Practical Law, for six-months after graduation. Your "Grad Elite" access gives you 60-hours of usage on these products per month to gain understanding and build confidence in your research skills. While you cannot use it in situations where you are billing a client, Thomson Reuters encourages you to use these tools to build your knowledge of the law and prepare for your bar exam. In addition, you get access to job searching databases on Westlaw and TWEN for 18-months after graduation for 1-hour a month.
For those students who have received the graduation emails from Lexis or Westlaw but have changed their graduation dates, please contact our Lexis Representative, Steve Albro, at Steven.Albro@lexisnexis.com, or our Westlaw Representative, Mark Frongillo, at mark.frongillo@thomsonreuters.com.
Information about other alumni access privileges, including the HeinOnline Law Journal Library, can be found on the library's RWU Law Alumni Services page.
Always remember that the librarians are here to provide reference assistance even when you are in practice and not in class. We are your librarians for life!
Good Luck! Congrats! We will miss you!
Library Blog