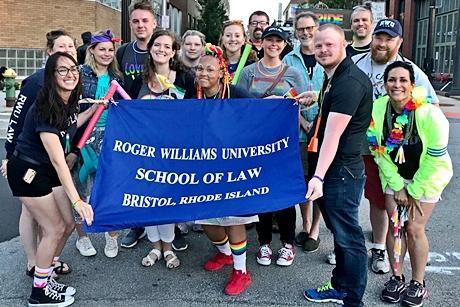 LGBTQ+ Community
You belong here.
At Roger Williams University School of Law, 10% of our student population identifies as a member of the LGBTQ+ community.  The law school also has out administrators and adjunct faculty.  The Alliance, our LGBTQ+ student organization, is very active building community, hosting speakers and events, as well as offering opportunities for mentorship. Members of our faculty have written on LGBT related topics ranging from abolishing sodomy laws to legalizing gay marriage. 
LGBTQ+ issues come into consideration in many ways both big and small at the school of law from including partners in our Orientation programming to offering gender neutral bathrooms for transgender students.  Rhode Island offers a very LGBTQ+ friendly community.  Providence offers a diverse gay scene with a range of LGBTQ+ and LGBTQ-friendly establishments.
RWU Law Faculty Research
Diana Hassel - An expert on Constitutional and Civil Rights Law, Professor Hassel has been recognized with a National Award for best Law Review article on Sexual Orientation and Gender Identity.
Emily Sack - A nationally recognized expert on domestic violence and reform of the court system, Professor Sack has spoken widely on topics related to same sex marriage and the Constitution.
Stonewall Lecture
In 2017, Roger Williams University School of Law established our annual Stonewall Lecture honoring the numerous individuals who have fought for LGBTQ+ equality and justice, and the many contributions they have made to advance this modern day civil rights movement.  Past speakers have included Marek Bute '05, Congressman David Cicilline, Blake Liggio, and Bendita Cynthia Malakia.
Gender Neutral Bathrooms
Roger Williams University School of Law strives to create and sustain a campus environment that supports and values all members of our community. One aspect of creating a comfortable environment is providing safe, accessible, and convenient restroom facilities. Consequently, the School of Law encourages individuals to use the restroom that corresponds with their gender identity. In addition, the School of Law is committed to maintaining gender neutral bathrooms. Gender neutral restrooms are located on the first floor near the Dean's Suite.
Chosen Name Policy
Roger Williams University recognizes that some current members of the campus community may prefer to identify themselves by a first name other than their legal first name. For this reason, the University provides students and employees with an opportunity to use a "Chosen Name" where possible in the course of University business and education. Under Roger Williams University's Chosen Name Policy, students and employees may designate a chosen or preferred first name in addition to the legal name. Individuals may request the use of a chosen name online via RogerCentral. To learn more about the policy and how to designate a chosen name and gender designation, please click HERE.
Resources on the LGBTQ+ Community at RWU and in Rhode Island:
LGBTQ+ Resources for Students: