Library Blog
Celebrating You – The Amazing, Resilient, Creative, and Lovely Class of 2021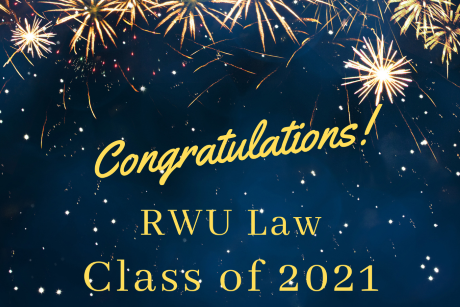 Although this year's Commencement will once again be different, what remains is that Commencement is a time for celebration. Like much of the last year and a half of your law school education, parts of this commencement will be held in a hybrid mode. We will see you virtually on Monday for the Class of 2021 Awards Program. On Friday, those of you who participate in the Grad Walk will get to see in person many of the classmates that started this journey with you and, virtually, your family and friends will be able to watch the livestreamed event. Later that day, we will join you again for the virtual commencement ceremony with the Class Valedictorian and Commencement speaker.
You had to overcome significant adversity and new challenges to get to this point. You joined us on campus--masked and socially distant, online—a bit more comfortable but always hoping that the internet did not throw us a curve ball, and some of you did a bit of both.  If you were on campus, you participated in the weekly testing--mercifully self-administered, cleaned spaces after you used them, and worked with the library and others to find on campus spaces for those online classes and meetings that you could not take at home. Throughout this adversity, you showed your can-do attitude, good humor, kindness, and ability to roll with every new thing thrown at you.
Indeed, you not only met these challenges, but you showed your amazing resilience, inventiveness, and can-do spirit:
You found new ways to connect with each other virtually--in escape room events, trivia nights, movie nights, and more. 
You performed well in virtual and in person moot court and trial competitions. 
You continued to balance your school loads with work in student groups, Law Review, interviewing, and bar prep.
You put together extraordinary programs with world-class guests and speakers, and in collaboration with local and national bar associations.
You gave your all to our signature events such as Women in Robes and Champions for Justice AND created new events that spotlighted RWU Law and had great participation, like the RBG Essay Contest.
You participated in large numbers in virtual career panels and many other networking opportunities.
You also welcomed the efforts of our faculty--armed with a few more months of experience with remote instruction and new delivery methods--to provide the incomparable RWU Law education that you had enjoyed for a year and a half before the pandemic began. You demonstrated that for those who want to learn, there is no barrier that will stop them. This writer had the pleasure of having twelve of you Class of 2021 students in my first time ever synchronous online class. You and your 2L colleagues exceeded my expectations of how that class would go. I will never forget you because you showed me how the will to learn can overcome the challenges that these new technologies bring, even for the "tech savvy" professor.
We hope that we have convinced you—the AMAZING, RESILIENT, CREATIVE, and LOVELY Class of 2021—of how special you are and all that you have accomplished. We see in every one of you nothing but immense possibility and a bright future. Before you get too deep into bar study and the next steps in your careers, take some time to celebrate with your loved ones. You earned this!  
Remember, the law library staff will always be here for you. We are your RWU Law librarians for life!  #RWULaw2021
Library Blog